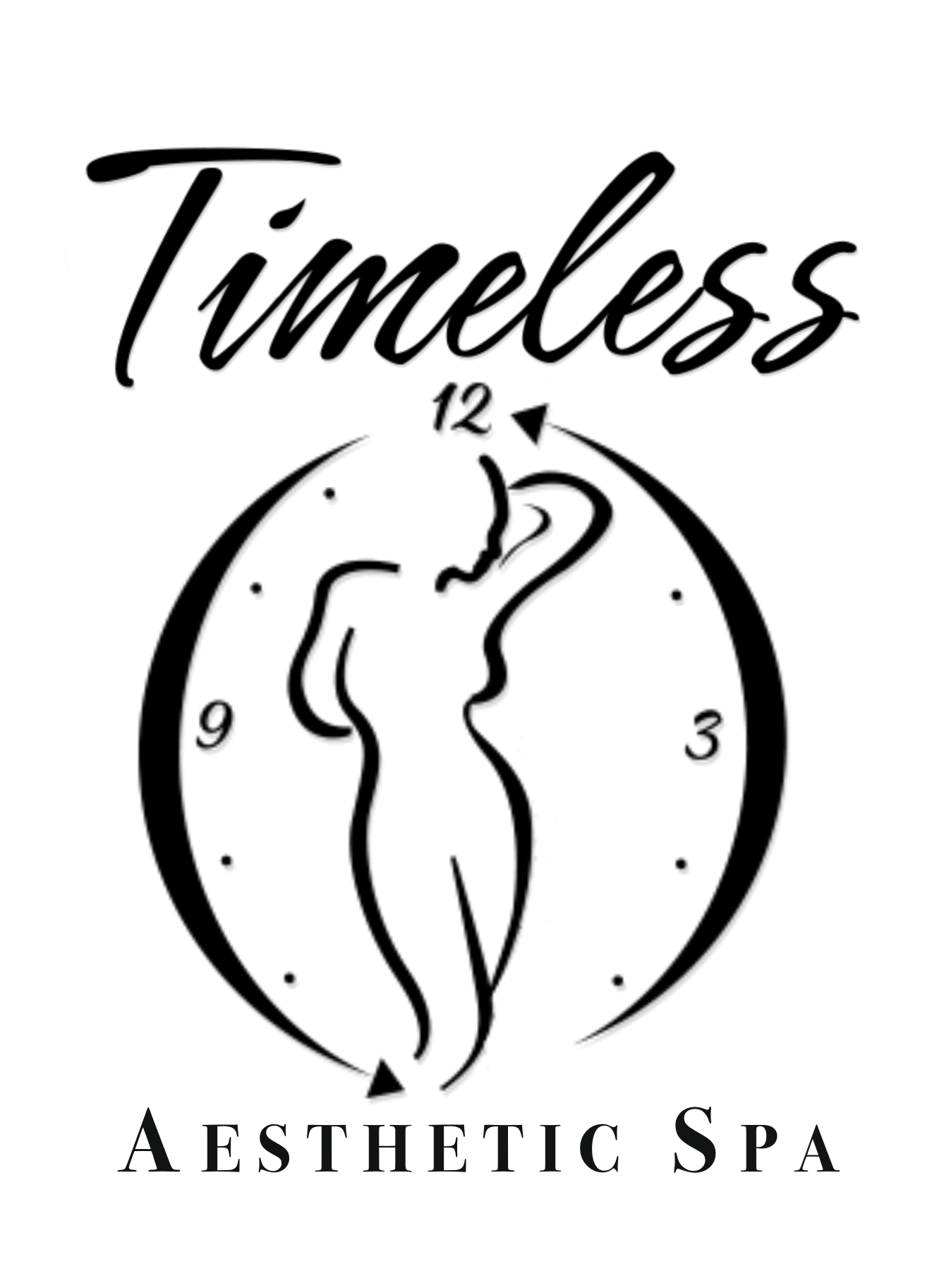 We are proud to announce Timeless Aesthetic Spa, our new extension to Timeless Plastic Surgery. Our well-trained team has years of experience providing highly skilled and safe facials and peels to our clients. We take pride in the work we do, and you will feel like a new person after your session. Rejuvenate your skin and body by contacting our team today.
Timeless Aesthetic Spa Packages
Timeless Aesthetic Spa is now offering top of the line facials, peels and other spa services to help you stay beautiful. Our team is happy to help customize a plan to reach your aesthetic goals.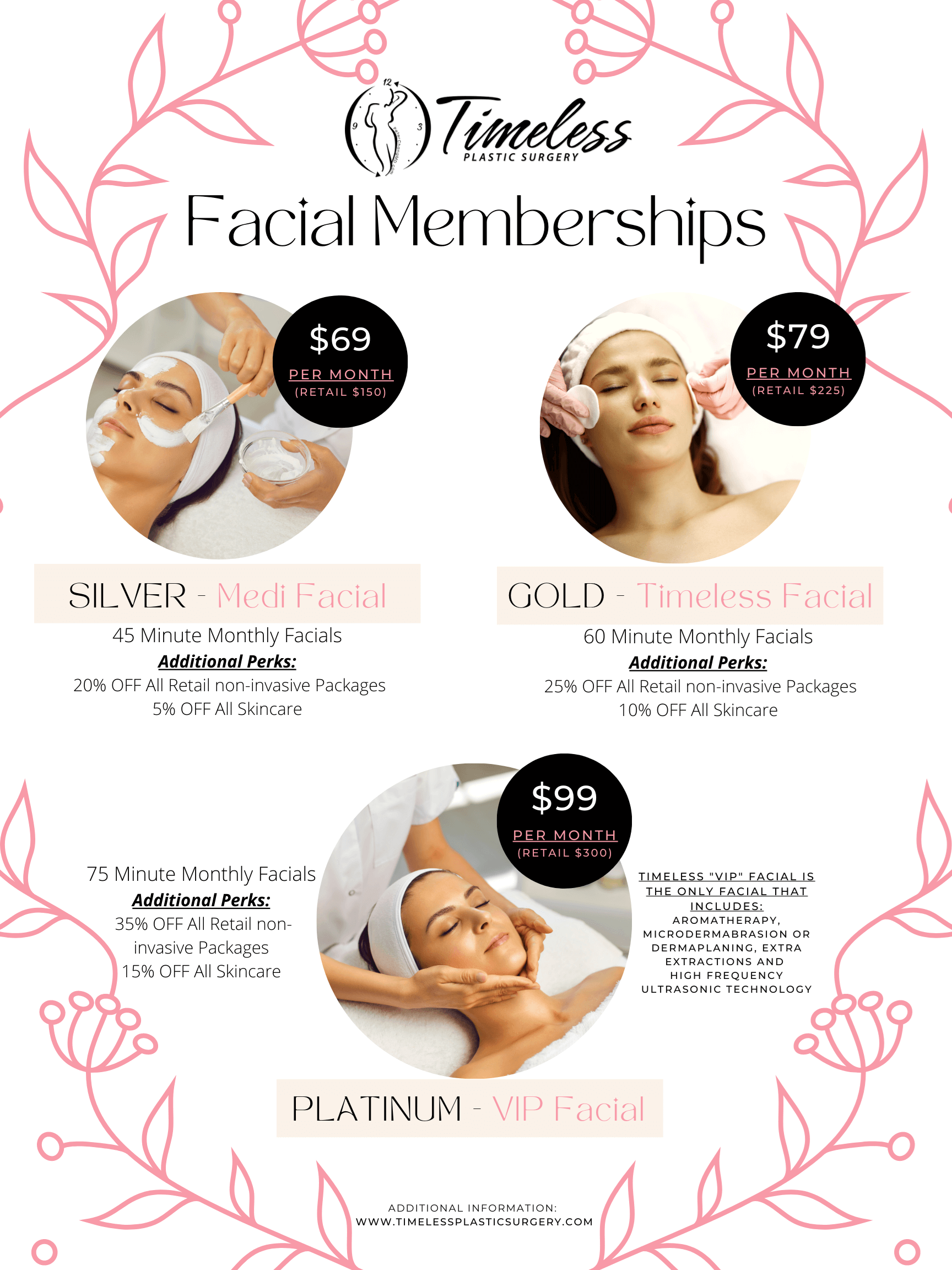 Spa Facials – Menu of Services
Timeless Medi Facial:
A complete custom deep pore cleansing, reparative treatment ideal for stubborn/problematic skin types. This is our solution for tired, dull, congested skin. This treatment consists of deep pore cleansing, exfoliation, extractions, masking, toning, and hydration. Includes: Aromatherapy
45 mins
Retail $150 (a la carte)
Membership Cost $69/month
Timeless Facial:
An intensive purification and detoxification of impurities in the skin. This treatment is specifically formulated to reverse the aging process and treat impurities in the skin. It aids in balancing the pH of the skin, while soothing inflammation and redness. This is the "go-to" facial for all skin types. Includes: Aromatherapy
60 mins
Retail $225 (a la carte)
Membership Cost $79/month
Timeless VIP Facial:
A luxurious and extended personalized infused treatment that offers hydration, promotes exfoliation, and stimulates lymph and blood circulation. This treatment is abundant in vitamins, minerals, and amino acids. When used in combination with ultrasonic technology, it will stimulate the skin's collagen replenishment cycle, strengthen cell walls, and enhance absorption of topical ingredients into the skin. Skin color, tone, and texture will be remarkably even and smooth. Includes: Aromatherapy
Timeless "VIP" Facial is the ONLY facial that includes:
Aromatherapy, Microdermabrasion OR Dermaplaning, Extra Extractions and High Frequency Ultrasonic Technology.
75 mins
Retail $300 (a la carte)
Membership Cost $99/month
Add-Ons to Facials:
Microdermabrasion - 15 mins
Dermaplaning/Epidermal leveling - 15 mins
Gel Peels - 15 mins
Extra Extractions - 15 mins
Ultrasonic treatment - 15 mins
High frequency - 15 mins
Galvanic Current - 15 mins
Hydrojelly Masks - 15 mins
Chemical Peels/Exfoliators:
Lactic Acid 35 Gel Based peel - 30 mins
Alpha Beta 45/15 - 30 mins
Vitamin A Accelerator (Self neutralizing) - 30 mins
Mandeliclear (Self neutralizing) - 30 mins
Glycolic 30 peel - 30 mins
Signature Corrective Treatments:
Timeless SWICH treatment - 90 mins
Timeless Oxygen Facial - 60 mins
Timeless "Glow" Micropeel
This is a skin-revitalizing exfoliation treatment that uses a diamond-tipped wand to remove all the dead skin cells on the surface of the face, followed by a peel formulated for your skin type. This is the perfect combo for creating a natural glow, leaving a smoother texture, and promoting the growth of healthy new skin cells.
Timeless Dermapeel
A combination of dermaplaning and a peel customized for your skin type and concerns. Increases cell turnover and absorption of topical products/infusions.